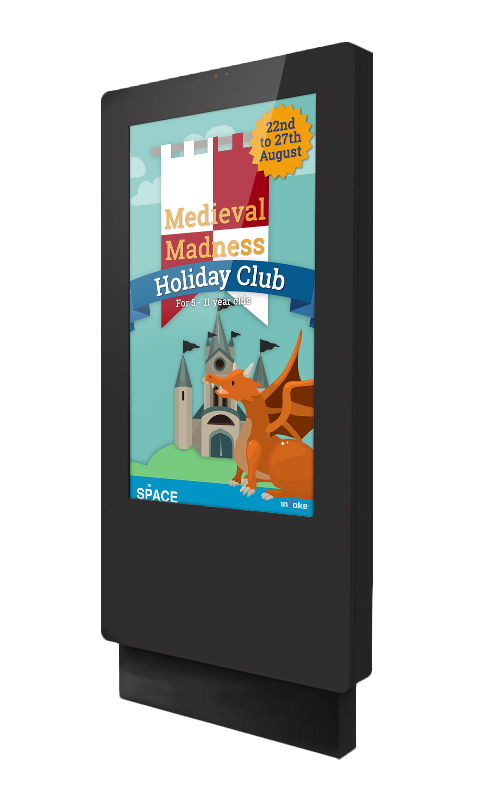 22" – 84" sunlight-readable, weatherproof, vandal-proof, portrait or landscape commercial grade professional advertising screens
inVoke Digital Signage provides bright and highly visible outdoor digital signage to businesses all over the UK. We have a skilled in-house design team  who can create bespoke content for display on your commercial-grade AdScreens, which can run 24/7. Outdoor digital signage can help you drive footfall and revenue to your bricks-and-mortar premises. It works for big businesses like McDonalds, Coca-Cola and Nike… it will work for you too!
Whether you're going for fixed or free standing signs for outdoors, having a bright screen really is the key to success. After all, it's no use investing in advertising screens that no one is able to read in the sun.
With this in mind, all of our advertising screens benefits from ultra high brightness panels (2,500cd/m2) which are more than 8 times brighter than a domestic TV. These panels ensure that the screen remains readable and attracts attention even on the brightest of days.
These screens are suitable for use in all weather types, having been designed to be used in even the harshest of conditions.
The screens are made out of steel, and boast a robust corrosion resistant outer casing with an IP65 rating (protected against all weather types and dust), as well as toughened glass.
The controls to the screens have also been purposefully hidden away in a place which is difficult to access. This prevents against the screens being accidently switched off by members of the public, and also contributes to the slick modern appearance of the screens.
To maximise longevity, all of our outdoor digital signage has a built-in smart temperature control system which manages the internal temperature of the signs to maintain a consistent temperature regardless of the conditions outside. This maximises the life of the product and allows the display to operate at optimal level in any climate.
Features
High brightness (5 x brightness of a domestic TV)

Smart air temperature control

Can be vinyl wrapped to complement your aesthetics

Commercial grade for constant 24/7 use

Network compatible for easy upload of new content and RSS feeds
Sizes available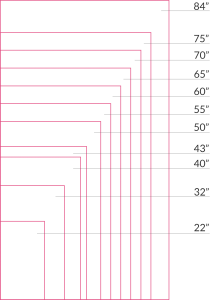 "inVoke had a frame especially made for our outdoor digital screen. It's fantastic and so stylish, and we're so, so pleased with the service from the design team. We'd recommend them to any business."
To book a free consultation, please fill out the form below.