There are many different areas in which Digital Signage can be of benefit to businesses within the professional services sector – these benefits range from improved communication with employees to advertising and cross-selling client services.
Internal communication
Although often a straightforward task for small businesses, for large businesses communicating with staff to keep them up to date with company news can be a difficult task, and it's not always possible to keep everyone in the loop with email memos. This can lead to staff becoming disillusioned and disconnected from their place of work, which can have a big impact on the collective moral of the company.
Digital Signage can used to efficiently communicate company information and events to a large number of staff through sharing information on a screen placed in an area visible for all staff to see (such as an office reception area).
Improve company culture
As well as sharing information, the screens can also be used to further improve company culture by creating a strong sense of community. For example, Digital Signage could be used to promote the personal and professional achievements of staff, advertise upcoming social events or share morale-boosting messages.
Digital Signage can prove to be a real driving force towards creating a more productive work culture and boosting the morale of staff, which is likely to result in an increase in the quality of work they produce.
Seamless meetings
With such a large amount of work completed on computers and other such devices, it's of paramount importance that during meetings you are able to instantly share files with members of the team. Our interactive touch displays allow you to do exactly that. Wireless mirroring, seamless file sharing and an smart pen stylus are just a selection of the fantastic features these screens have that can help to add a whole new dimension to business meetings.
Internal advertising
Effectively communicating your full range of services is an important part of generating new business and cross-selling services to existing clients. One of the best opportunities businesses have to do this is when there are visitors; particularly if you have a designated area where visitors sit and wait before being greeted. Our Digital Signage complete with eye-catching slides and captivating content is a really great way of clearly communicating all of the services you offer to a customer, including any promotions or offers that could entice them to enquire further.
Which Digital Signage product is right for you?
Let us help you choose which type of Digital Signage is ideal for your professional services business: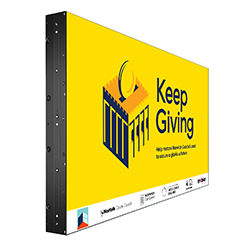 Video Wall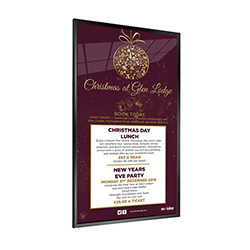 Internal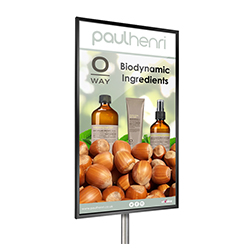 Shop Window
"You can't fail to notice our video wall – it provides everyone who sees it with information on what we offer. Our enquiries increased significantly as a direct result of installation."
To book a free consultation, please fill out the form below.