COVID-19 means that, now more than ever, it's important that we are aware of the information and products available to reduce the risk of spreading germs.
For organisations/suppliers wanting to maximise the reach of their information and promote regular hand washing with staff, customers and the general public, digital signage is the answer.
Spread information, not the virus
Digital signage is an effective way to increase impressions (up to 400% compared with other signage). The innovative design and mobile content presented on digital screens is eye catching and engaging. Paired with the integrated hand sanitiser stations, LCD hand sanitiser displays actively encourage people to disinfect their hands, making them the ideal way to capture people's attention—and kill germs.
With digital signage, you can:
Change the content displayed regularly
Display information in multiple locations
Create interactive content that captures attention
Update content anywhere, any time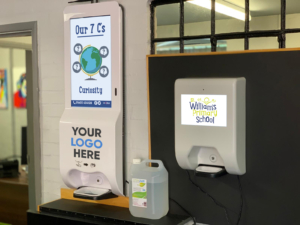 Hand sanitiser displays from inVoke
inVoke digital signage provides premium-grade LCD hand sanitiser displays that keep you, your staff and customers protected from Covid-19.
LCD 10" hand sanitiser display
The 10" display offers a simple and easy to use station suitable for any location. With an censored auto-dispenser for a hands-free experience and the option for floor or wall mounting, this display allows you to provide valuable information and up to 9000 pumps of hand sanitiser to users.
Key features include:
Auto-dispenser
3.6L internal reservoir
USB plug & play media player
Floor standing or wall mounted
LCD 22" hand sanitiser display
The 22" display provides a large display screen for maximum engagement and effect. Boasting the ability to report on pump usage and receive notifications when the sanitiser is running low, this is the perfect option for high-traffic areas.
Key features include:
Auto-dispenser
3.6L internal reservoir
Cloud digital signage & pump reports
Floor standing or wall mounted
PCAP touch screen
4G connection
Diecast plastic for easy cleaning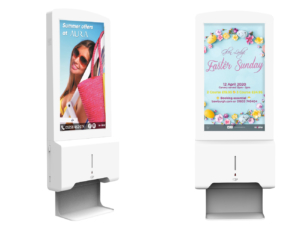 Why choose inVoke?
inVoke Digital Signage is a leading provider of digital signage displays to sectors—including schools, hospitals and leisure facilities—across the country, offering hassle-free in-house design for the complete digital advertising experience.
To help protect your staff, customers and visitors from coronavirus with up-to-date informational content and a hand sanitising station that grabs attention, get in touch with us today for more information about our hand sanitiser digital displays.
To book a free consultation, please fill out the form below.