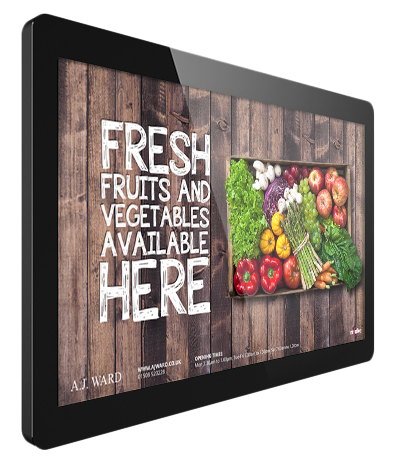 Digital signage in London to help you stand out
Reach out to the millions passing your windows–make them look at what you have to offer.
Bright screens and bespoke, dynamic and attention-grabbing animation means that with digital signage, your branding can cut through the London noise. Plus, our screens will run 24/7, communicating your message night and day.
With digital signage, London is open for your business
Our unique digital signage will give you the tools to expand your marketing far beyond just your business's walls, turning passers-by into potential customers.
Each screen comes complete with:
Ultra high brightness panels to maintain readability on bright days
Steel construction and strong corrosion resistant outer casings to protect against harsh weather
A smart temperature control system to manage the signage's internal temperature
Toughened glass and hidden controls to prevent tampering
inVoke's in-house design team can customise not just your digital signage's screen size but your animation and marketing too. That way, your digital signage can maintain your unique brand no matter where in London it sits.
Turn passers-by into customers with digital signage in shop windows
London doesn't sleep–that's why our digital signage is ideal for the UK's busiest city, as they'll run night and day so that your branding connects with customers even outside your business hours. The displays are outward facing which, combined with bright screens and attention grabbing animation, means your messaging will be clear and eye-catching to people on the street.
Our digital signage features:
Commercial grade 24/7 operation
High brightness panels to ensure sun-readability
Framing options to compliment the environment in which they're placed
Size options from 32" to 65"
Bespoke dynamic content to promote your business and offers
London is packed with thousands of businesses on even busier streets, but with inVoke's digital signage, your brand can stand out with interactive advertising whether you're looking to showcase your latest offers or newest products.
Make noise in London
With inVoke Digital Signage London streets are now open for you to showcase your unique brand 24/7.
Get in touch and start attracting more customers.
To book a free consultation, please fill out the form below.