Digital screens are 400% more effective at capturing the attention of audiences than traditional print or static screens. This makes them an invaluable asset for estate agents. Some of the many benefits of our Digital Signage solutions include:
24/7 operation with high brightness screens

Easy installation in shop windows to help you connect with passers-by and grow audiences

Showcase properties in an eye-catching way

Via Property Hive, our CRM supports all the leading property software providers and makes it easy to import your properties from them automatically, meaning you only have to manage your properties in one place. This includes Verbra, Alto, ExpertAgent, Dezrez, ReapIT and many more.

Relay valuable property information and property management details, so prospective clients can quickly connect with you

Save time, energy and money by updating property information in real time with the click of a button via your content management system
Content Creation
Our displays come with Android Digital Signage software. And our studio is familiar with creating custom content for estate agency clients. We know the latest trends, and can help you develop templates or layouts that maximise the impact of your listings. 
With inVoke Digital Signage, you're guaranteed to grab attention and boost sales.
"Thank you to inVoke for the installation of our new digital screens. We love them! 👀😍"
Our Clients
Here are just a few examples of our real estate clients that use Digital Signage to display their properties and connect with new clients.
Contact us today to find out how you can do the same!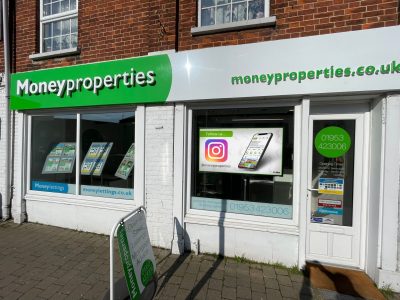 Money Properties
Nationwide 600+ installations for as little as £3 a day

Our graphic design team is here to help if you want custom branded content

Brand development with our quality Digital Signage displays

Our full-HD commercial-grade screens run 24/7

Plug and play functionality, or load content on the media player via Wi-Fi with our cloud-based CMS

Easily manage and update screen content for 1 (or 1000) screens