The food and drink industry is a highly competitive and unforgiving place. With so much advertising flooding the market and minds of consumers at every turn, cutting through the noise to capture their attention can be a challenging task.
So, how can you do this?
Android digital menu boards
One of the most effective ways is through using our Android digital menu board. These boards are a brilliant method of promoting a quick and eye-catching snapshot of your offering to consumers, enticing them to buy.
A cut above the alternatives
Far superior to the common alternative (a printed menu in a lightbox) in both functionality and appearance, our digital menu boards portray quality to your customer and help restaurants appear modern and appealing.
Attention grabbing
A key advantage our digital menu boards have over other forms of advertising is that they give you the option to add videos and animation to your menus, rather than just static images. By representing your food with high-quality imagery, you can make your offering much more appealing to the consumer. All our digital menu boards have LCD screens, which ensure all your personalised content appears in glorious, vivid high definition.
These are useful features to have when it comes to drawing attention to your menu boards, and will likely give your restaurant an advantage over competitors.
Easy to update
With ease of use a top priority for all our Digital Signage, our digital menu boards have been designed so they are quick and easy to update at no additional cost. This is particularly important for restaurants, where menu changes are something that can happen frequently – such as prices, allergy information, removal or addition of food items etc.
Knowing that important information such as the above can be changed instantly takes away the worry of promoting out-of-date information to your customers. This is a big advantage that digital menu boards have over print advertising, where after the content has been printed it's impossible to make any changes without the lengthy and costly process of re-printing.
Synchronise across screens
Our digital menu boards also include the option to synchronise content across a number of screens – meaning your content can be used over multiple screen types, rooms and even branches of your food or catering business.
Fantastic aesthetics
Like all our products, our digital menu boards look fantastic. The glass tempered front and aluminium screen edge are complemented by a slim, tablet-like profile, and this ensures our menu boards will be a welcome and stylish addition to any restaurant environment.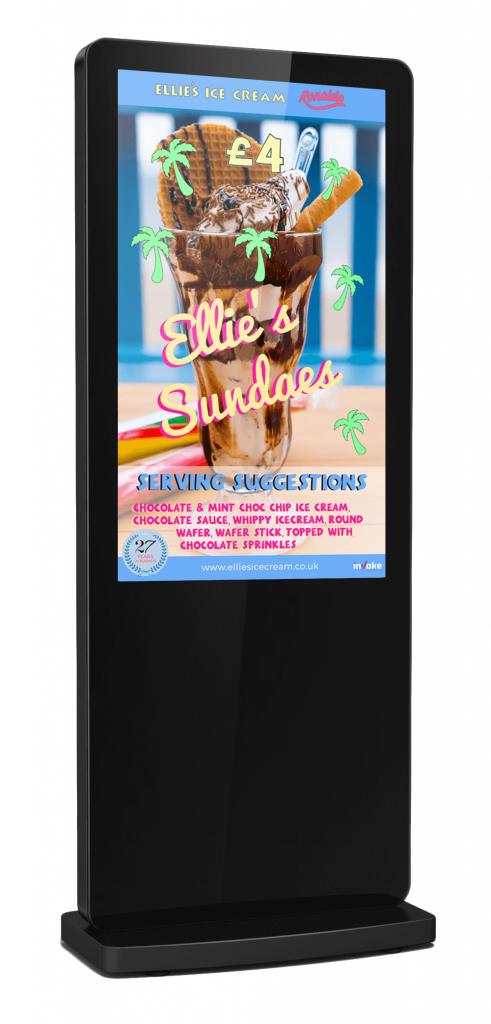 About Digital Signage for Food & Catering Businesses
inVoke Digital Signage is a leading provider of indoor, outdoor, free-standing, shop window and video wall digital signage all over the UK. Our commercial-grade AdScreens are designed to run 24/7, effortlessly promoting your food or catering business.
All our display screens – available in either landscape or portrait mode – are fitted with an LCD panel and backlit with LEDs, maximising the visibility of your menu, product range or promotional deal.
Our in-house team of designers create custom visuals and animations for our food & drink digital signage solutions, guaranteeing an eye-catching effect. Digital signage is used by some of the world's biggest brands, including McDonalds! It's worked for them, it can work for you too.
"inVoke menu boards grab the attention of our customers the moment they walk in the door. It's so easy to update our daily offers. Best thing we ever did."
To book a free consultation, please fill out the form below.