Digital signage screens are an eye-catching and effective way for hair and beauty salons to attract potential customers. They're also versatile and can be used in shop window displays to engage with passers-by, or within shops to enhance client experience. 
With our digital signs, you can easily:
Market your salon services and display pricing

Earn trust by sharing customer testimonials

Share makeover or beauty tips by your stylists

Display your latest news or social media feeds to boost coverage
Advanced Functionality
Because our Digital Signage solutions are network compatible, you can update information in real-time. This is particularly useful considering how styles rapidly change in the hair and beauty industry. No more worrying about the costs of reprinting static signage.
With inVoke, you also have access to our professional in-house design team. We can work with you on content creation that's guaranteed to increase your footfall!
"inVoke had a frame specially made for our outdoor digital screen. It's fantastic and so stylish, and we're so, so pleased with the service from the design team. We'd recommend them to any business."
Our Clients
Here are just a few examples of our hair and beauty salon clients who have attracted more customers with the help of our Digital Signage.
Contact us today to find out how you can do the same!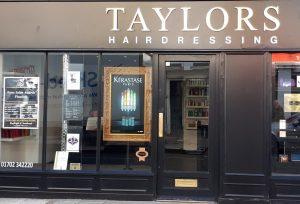 Taylors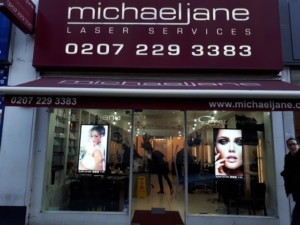 Michael Jane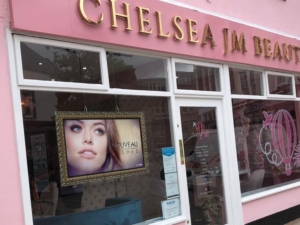 Chelsea Beauty
Nationwide 600+ installations for as little as £3 a day

Our graphic design team is here to help if you want custom branded content

Brand development with our quality Digital Signage displays

Our full-HD commercial-grade screens run 24/7

Plug and play functionality, or load content on the media player via Wi-Fi with our cloud-based CMS

Easily manage and update screen content for 1 (or 1000) screens