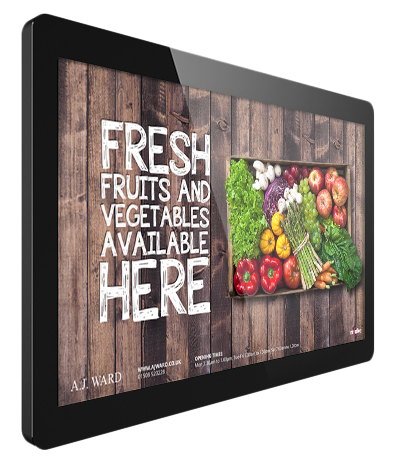 LED digital signage to communicate your message quickly and effectively
inVoke's Android LED Digital Signage comes equipped with a commercial grade LCD panel backlit with LEDs, making them much brighter and more engaging than the average static poster, with modular, bespoke units especially suited to large indoor displays.
What's more, they can be customised with branding created by our in-house digital design team–this includes video content, flashing displays with scrolling for your latest promotions and offers, and everything in between. Each can be tailored with special text formats and colours to ensure your messaging exactly fits your brand. And when it's time for a new display, you can stay ahead of your competitors with instant updates.
We know your business is unique, which is why our Digital Signage is so adaptable. It can be used for auction boards to display lot numbers or reserve prices, in a retail space at point of sale units, or even for full video walls for intricate promotional campaigns. With innovative designs and the use of complex visual tools, these eye-catching displays are specifically geared toward drawing customers into your space.
To book a free consultation, please fill out the form below.