Hotels digital signage that captures attention
Key to communication
Our free-standing digital posters are an excellent communication tool that can be used to update your guests with venue information and the additional services or products you can provide, which they otherwise might not have been aware of.
The benefits of digital signage in hotels is endless – digital advertising screens can also be used to promote other places of interest in the surrounding area as well. This will ensure your guests feel welcome and able to make the most out of their stay.
Appealing aesthetic
With appearance and aesthetics understandably a top priority for hotels and leisure centres, our free-standing digital posters have been designed with this in mind. An aluminium bezel and tempered glass front help create a modern aesthetic which would make a welcome feature to have in any reception room, lobby, hallway, bar, restaurant or leisure facility.
Easy to upload
One of the biggest advantages our Digital Signage has over traditional forms of print is the functionality to upload new content quickly and simply. This is useful to have for both hotels and leisure facilities, where there may be local or internal events coming up which you want to promote to your guests.
As well as this, our easy and quick upload functionality provides the opportunity to offer a highly personalised service to guests, such as displaying a personalised welcome at the start of guest events, like weddings.
Large scale signage
In the case of large conferences where it's common for people to be sitting a large distance away from the screen, our LCD video walls may be a more suitable option.
The video walls are made up of multiple screens which come together to create one large display. This means that they can be constructed to suit any size of room, and ensures that everyone in the room, regardless of how far they sit away from the screen, is able to comfortably read the content.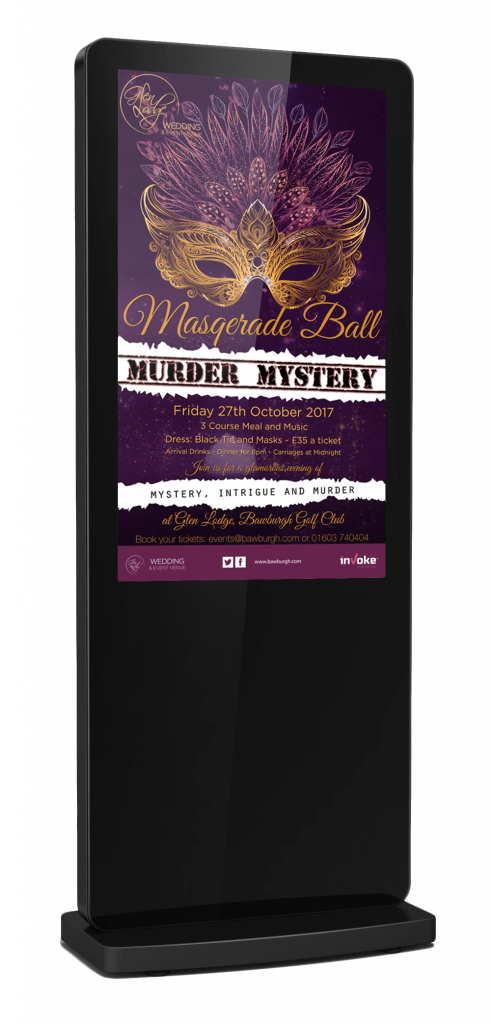 Interactive touch screens
inVoke Digital Signage are a leading UK provider of custom digital signage for hotels and leisure environments. We work nationwide, so no matter where you're based, we can help!
All of commercial-grade Android AdScreens are designed to run 24/7 and are fitted with an LCD panel, which is backlit with LEDs. This, alongside the large sizes available (55", 65" and 70"), guarantees maximum visibility, communicating important information to your visitors in a heartbeat. Our digital signage also features no buttons, controls or branding, meaning that they are less likely to be accidentally disabled or tampered with.
With inVoke, you benefit from a hassle-free design and installation process. We have a team of creative in-house designers that dream up inventive content to be displayed on your AdScreens to your specifications. You can also choose from either landscape or portrait mode.
What are you waiting for? Digital signage can be transformative for your hotel or leisure business. Get in touch with inVoke Digital Signage today to discuss your requirements.
"We use the free-standing screen to promote and inform guests of upcoming events. It's fantastic and the service from inVoke is top."
To book a free consultation, please fill out the form below.