Hotels and leisure facilities are both perfect examples of venues that can benefit greatly from multi-use Digital Signage.
Key to communication
Our free-standing digital posters are an excellent communication tool that can be used to update your guests with venue information and the additional services or products you can provide, which they otherwise might not have been aware of.
In addition to this, our digital advertising screens can also be used to promote other places of interest in the surrounding area as well. This will ensure your guests feel welcome and able to make the most out of their stay.
Appealing aesthetic
With appearance and aesthetics understandably a top priority for hotels and leisure centres, our free-standing digital posters have been designed with this in mind. An aluminium bezel and tempered glass front help create a modern aesthetic which would make a welcome feature to have in any reception room, hallway, bar, restaurant or leisure facility.
Easy to upload
One of the biggest advantages our Digital Signage has over traditional forms of print is the functionality to upload new content quickly and simply. This is useful to have for both hotels and leisure facilities, where there may be local or internal events coming up which you want to promote to your guests.
As well as this, our easy and quick upload functionality provides the opportunity to offer a highly personalised service to guests, such as displaying a personalised welcome at the start of guest events, like weddings.
Large scale signage
In the case of large conferences where it's common for people to be sitting a large distance away from the screen, our LCD video walls may be a more suitable option.
The video walls are made up of multiple screens which come together to create one large display. This means that they can be constructed to suit any size of room, and ensures that everyone in the room, regardless of how far they sit away from the screen, is able to comfortably read the content.
Which Digital Signage product is right for you?
Let us help you choose which type of Digital Signage is ideal for your hotel or leisure business: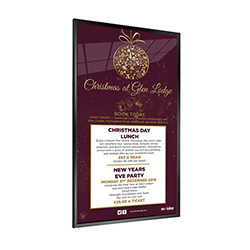 Internal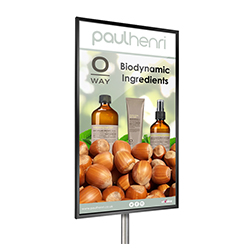 Shop Window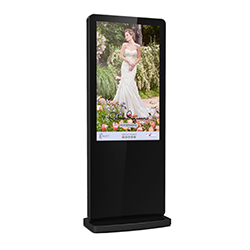 Free-standing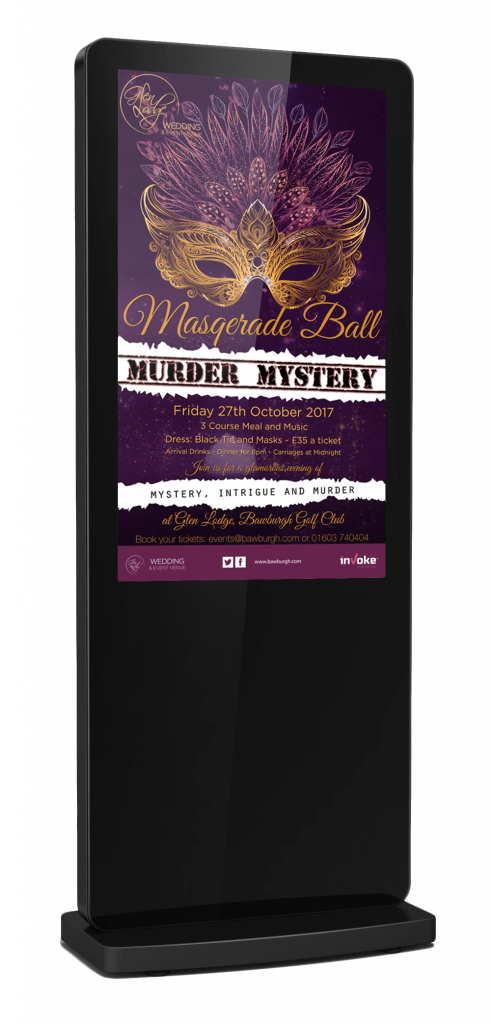 Interactive touch screens
First impressions are incredibly important for hotels and leisure centres. Given that people have often travelled long distances to arrive at their destination, it's important that once they arrive you are able to check them in as quickly as possible. Our interactive touchscreens are the perfect way to do this, as they offer an alternative, automated method to checking in. This can be incredibly useful during busy periods, when there may be multiple people to check in at the same time, but only one person on the front desk.
As well as offering the functionality to automatically check guests in, our interactive touch screens can also double up as a way-finding method for guests to navigate their way around the building. Boasting orientation functionality, our interactive touch screens are ideal for use in large hotels and leisure facilities, as they take away the necessity of having to leave the front desk unoccupied in order to personally accompany guests to their rooms.
As a result of their large space and often grand appearance, hotels are often very popular locations for businesses to hold meetings and conferences. This can be a great source of revenue, particularly in slower winter months for hotels that rely heavily on seasonal summer business. In order to host these events it's essential that you provide high quality facilities that will ensure everything goes smoothly. For example, if you are using an outdated projector system you will be likely neglecting a valuable part of the market which require a system suitable for presenting high quality presentations. Digital Signage can negate this worry: our interactive touch displays are the perfect tool for these types of presentations, boasting excellent functionality including wireless screen mirroring and file sharing features which enables those in attendance to interact with the content on screen.
"We use the free-standing screen to promote and inform guests of upcoming events. It's fantastic and the service from inVoke is top."
To book a free consultation, please fill out the form below.